Angelina Jolie as we know has had genetic testing and has made the dramatic decision to have a double mastectomy.
This is a form of Health Screening. In the pet world we have DNA and genetic testing also e.g. Polycystic Kidneys is an autosomal dominant in Persians, Breed identification and Collie eye anomaly to name a few.
These are very specific tests.
More commonly we do general Health Screening to assess the function of Liver, Kidneys and Thyroid or for the presence of Diabetes & Blood pressure.
Why do the testing?
The main reason is to detect disease early. Early detection means the disease processes have not proceeded as far, so that treatment is less expensive and means your pet will live longer with better quality of life.
Give me an example.
Thyroid. Cats get a lot of hyperthyroidism usually in older cats but as young as 5 yrs old. In the early stage of the disease the thyroid swells and the metabolic rate increases. With time the blood pressure goes up and the heart sounds different (Heart Murmor). There are a number of different effective treatments for hyperthyroidism. If the cat is treated at this stage the heart abnormalities will reverse. Treated latter some of the heart changes will be permanent. If the disease is left untreated for longer, the blood pressure will increase such that the retinas will pop off the back of the eyes causing permanent blindness. Early detection produces better quality of life and saves the owner money.
Recently I treated two kidney cases one stage 2 which has improved out of site and is doing really well. The other patient is stage 3 and has a resistant secondary urinary infection which has improved but has obviously cost more due to the fact that the disease was detected later.
What can we offer
The most important thing is regular checkups – at least yearly until 5-6yrs old and 6mthly after that. Remember 6mths is like 3-4 human yrs.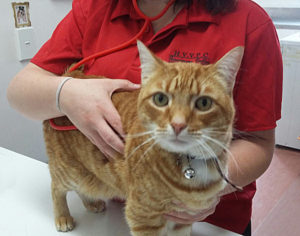 Health Screen Dog
Health Exam
$59.50
Dog Health Screen
$199.00
Health Screen Cat
Health Exam
$59.50
Cat Health Screen
$199.00
Details of the blood & urine test:
BUN Urea is one of the kidney enzymes we look at. Elevation can also occur in dehydration and hemorrhaging from the bowel.
Glu Glucose is mainly to assess for diabetes in adults & hypoglycaemia in young animals.
ALP is a general tissue enzyme associated with bone, heart and liver. It can also be an early indicator for Cushing's disease.
T-Pro Total protein measures the protein in the blood–elevated in dehydration and inflammation or decreased with loss!
ALT is a specific enzyme that is elevated when liver cells are damaged.
Alb is also a measure of protein in the blood and dehydration.
Urine is tested for concentration (SG), pH (acidity), blood, crystals & bacteria.
Creatinine is the second kidney enzyme we look at. This enzyme is especially important in that although it has a wide normal range it is very stable in an individual. Therefore if it is trending up, even in the normal range, this is an important early warning for reducing glomerular filtration. Creatinine Creep! This can only be diagnosed by regular testing.
Cats we do two extra analytes:
Fruct is a better measure of Diabetes(common in fat cats)  in that it averages the blood glucose over the last 2 wks.
Early diagnosis prevents the significant secondary damage, especially to heart & eyes.
T4 is a measure for Thyroid function.